Hardwood Floor RESTORATION
Lincoln's Hardwood Floor Drying Experts
HARDWOOD FLOORING
RESTORATION, REPAIR, AND INSTALLATION
Cupped, water damaged wood flooring is one of the most difficult and complicated materials for our industry to dry and requires experience, finesse and good judgement to reverse the damage. At DryHero, 24/7 we have been trained in the use and application of state-of-the-art wood floor drying systems to help save your wet wood floor. Wood flooring responds slowly to moisture so it's important to act promptly when you discover, warped, cupped or discolored water damaged wood floors.
WOOD FLOORING DRYING SPECIALISTS
DryHero specializes in evaluating, drying, and restoring your water damaged wood flooring in and around Lincoln, Nebraska
IMPORTANCE OF DRYING WATER DAMAGED WOOD FLOORING
When wood flooring is water damaged, there are two primary negative results that concern us: permanent structural damage and mold growth. It is our objective to avoid both negative outcomes and both are a function of moisture content.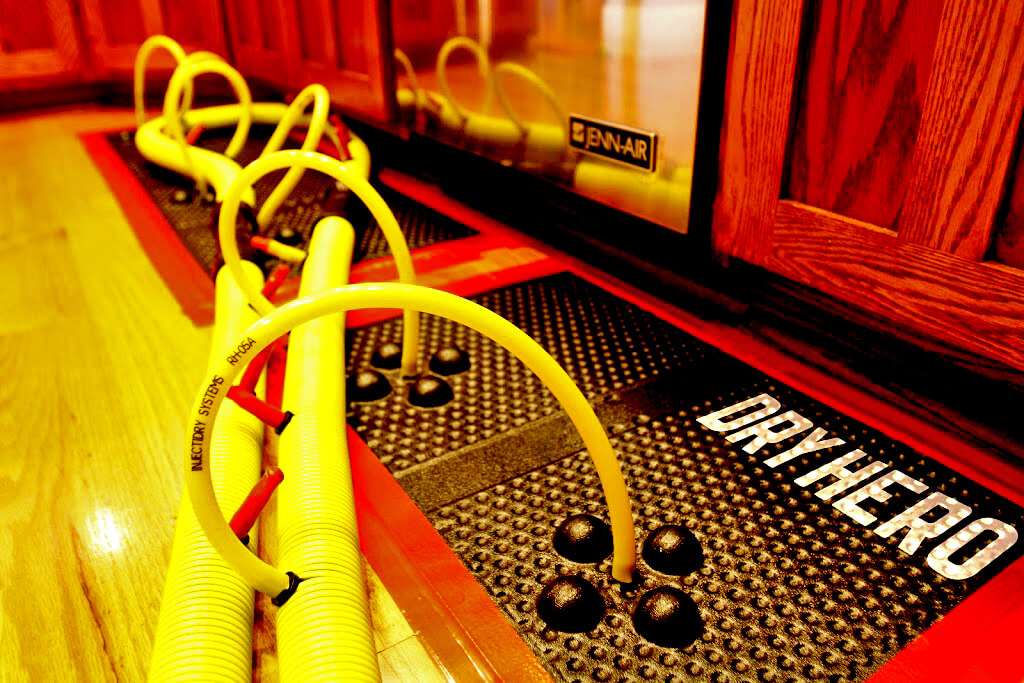 "Normal" moisture content for a wood floor can vary from as low as 6% to as high as 12%. A flooded or water damaged wood floor can achieve 40% moisture content and remain above 16% MC for weeks and even months if left to naturally dry on their own. According to the EPA, in as little as 48 – 72 hours, mold is capable of growing on most materials with a relative moisture level of 16% or higher. Time is your enemy when it comes to water and your wood flooring because the moisture, temperature and dust layer beneath a wet wood floor provides a pretty good environment for mold. Leaving wet floors naturally air dry is not worth the potential risk.
PREVENTION OF WOOD FLOOR WATER DAMAGE
Preventing water damage to your wood floor and avoiding the need for water damage restoration is better than trying to dry it out. The most common sources of water that damage wood floors are from plumbing systems. Leaking dishwashers, kitchen sinks, refrigerator water lines, ice maker water lines, bathroom plumbing fixtures, washing machines, frozen pipes and water heaters. Pay attention to your wood floors. If you notice cupping, swelling, discoloration or any type of deformation, you have a water leak. At DryHero, we have the leak detection tools and meters to help pinpoint the source of your wood floor water damage. If you're in or around Lincoln, Nebraska, call 402-438-2379 for a consultation.
* Before you can even enter into a discussion of saving or drying your water damaged wood floor, be sure to determins exactly what type of wood flooring you have. CONTACT US NOW
For expert help in drying wooden floors.
TYPES OF
SOLID WOOD FLOORING
Solid wood floors are manufactured from one complete piece of solid wood. Solid wood flooring comes in three main types. Each type is available in both an unfinished and a pre-finished version. Unfinished flooring must be job-site sanded and finished after installation. Pre-finished flooring is sanded and finished at the factory, so it only needs installation. The three main types of solid wood flooring are:
This type of flooring is denoted by the thickness and width of the wood planks. Strip flooring has a set width, but the thickness can vary. Strip flooring ranges in thickness from 5/16 of an inch to 3/4 of an inch wide. It is available only in widths of 1 1/2 inches, 2 inches and 2 1/4.inches. Strip wood flooring is very common in older Nebraska homes.
Plank flooring only comes in two thicknesses, but unlike strip flooring, the widths can vary. It is available only in thicknesses of 1/2 inch or 3/4 inch and a range of widths from 3 inches to 8 inches.
Parquet flooring – Parquet floors have a very different look from typical hardwoods. They are made up of geometrical patterns composed of individual wood slats held in place by mechanical fastening or an adhesive.
Engineered wood floors are made up of multiple layers of wood veneer glued and pressed together. They are generally 5/16″, 3/8″, 1/2″ or 3/4″ thick with widths of 2 1/4″, 3″ and 5″. Because of their cross-lamination, engineered wood floors tend to be more stable during seasonal changes than solid wood floors.
Like many areas of the country, laminate flooring has become very popular in Nebraska. Laminate floors vary greatly in construction but are basically made up of a hard core material that has a laminated printed layer and a special backing that are secured to the core and then saturated in plastic-type resins, called melamine. Laminate floors are really very similar to kitchen countertops. Virtually all laminate floors are "floating" floors, meaning the floor is not directly attached (nailed or glued) to the subfloor. Laminate floors are NOT considered wood or hardwood flooring.
HOW DOES MOISTURE AFFECT WOOD FLOORS?
There are numerous factors that affect how a wood floor will react to moisture. Although no wood flooring system will tolerate high levels of moisture, but some do better than others.
Solid plank wood floors have the highest salvage potential because you're dealing with 100% real, solid wood. There are no resins, veneers or composite materials to deal with. In general, a solid wood floor can be sanded and refinished several times in its lifetime. So if you can control the moisture and stabilize the flooring system, refinishing can restore even badly damaged floors.
The harder the wood, the more slowly it will react to moisture. Oak flooring will react to moisture within a day or two whereas a hard maple floor may not cup for three, four or more days. The harder the material, the slower it absorbs moisture and the slower it will release it. Some softer wood floors (such as southern yellow pine) can be exposed to significant moisture yet only slightly cup, increasing the potential to underestimate the damage.
One variable to solid wood flooring is whether it was finished on-site or pre-finished. Floors that are sanded in-place usually have a fairly continuous finish on them, reducing the rate at which they can absorb (and release) moisture. Pre-finished, solid wood flooring has the finish applied at the factory. To account for slight variances in the product thickness, manufacturers bevel (or "kiss") the edges for a uniform look. Factory finishing produces a high quality finish, but the bevels will allow surface moisture to absorb into the wood at a higher rate.
Parquet flooring, although solid wood, has a much lower salvage potential. High quality parquet will be more forgiving than low-cost varieties, which are seldom worth saving. Since it's glued and not nailed to the substrate, excessive exposure to moisture causes the adhesive to release, even before the wood cups.
Engineered wood, although more stable when exposed to minor moisture, has a major disadvantage. It has a veneer wear layer anywhere from 1/32″ to 5/16″ so it often can't be refinished. Refinishing a floor removes 1/32″ – 1/16″ of material so you have to do your homework researching the material. Ask the property owner if they have a sample or
any leftover wood flooring to help identify the wood. Engineered wood floors always have beveled edges and you can also identify them by removing a floor vent and inspecting the plank's cross section for laminated layers.
Laminate floors have a low tolerance for moisture. The high-density fiber core permanently swells when it absorbs water and cannot be saved. You can identify water damage to a laminate floor by inspecting the edges of the planks for swelling. Like solid wood flooring, it is possible to spot repair laminate floors but it's often difficult, even with spare material.
Since water can remain trapped beneath the floor padding, it's important to thoroughly test for moisture at the substrate level. Laminate floors are not restorable after swelling from moisture. If the laminate floor has a significant amount of water beneath the padding but the flooring has not yet swollen, drying may be possible but is unlikely.
Got Hardwood Floor Water Damage? Call DryHero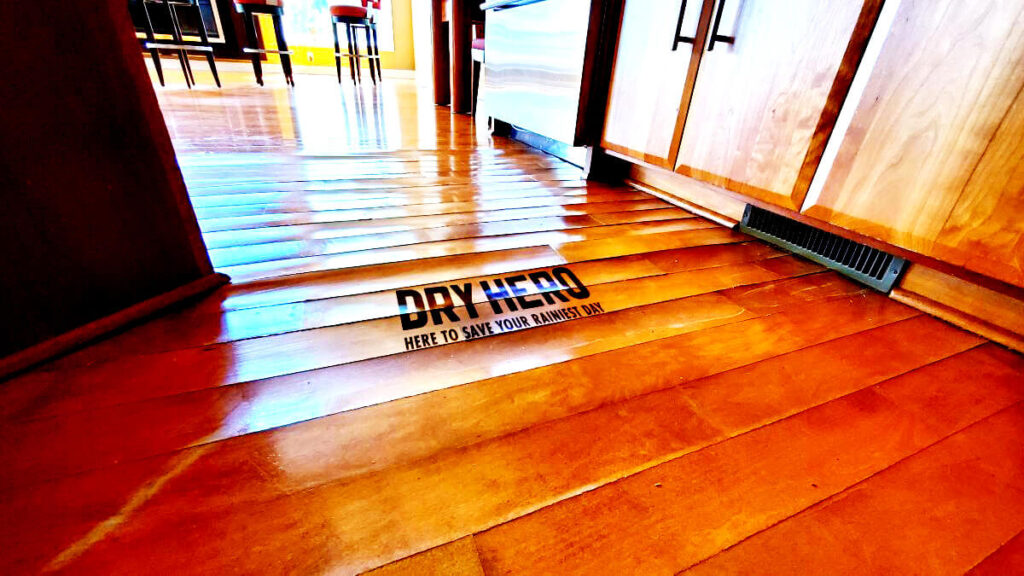 Determine if your water damaged floor is salvageable. Solid wood floors that have cupped but are not completely buckled stand the best chance for restoration. Another consideration is that if the floor is severely cupped, the nails that secure the wood to the subfloor may pull loose, causing the floor to squeak or prevent it from completely laying flat after drying. Conditions that may prevent successful restoration.
Remove the bulk moisture. Most of the moisture absorbed by a wood floor is not from the top surface but from the bottom. Therefore, if you don't quickly evacuate the standing or bulk water from flutes on the underside of the flooring, you're going to have a hard time drying the cupped floor. Wood will continue to slowly absorb water if there's a source for it to draw from. Not removing the bulk water can cause the floor to continue cupping, even after a drying system is in place.
Installing wood floor restoration vacuum panels. The floor restoration panels are temporarily installed over the wet wood flooring and a powerful negative pressure is applied. The warm dry air being "pulled" under the wood floor through the flutes in the hardwood (over the permeable layers) is sufficient to create the vapor pressure differential needed to move moisture from the wood floor assembly.
NEVER SAND A WET, CUPPED, WATER DAMAGED WOOD FLOOR
This is Wood Floor Refinishing 101. You never sand a wood floor until it's completely dry. As elementary as this is, it can easily happen. A cupped wood floor is a wet wood floor. Sanding or refinishing a cupped wood floor will eventually result in a crowned wood floor.
SUMMARIZING CUPPED AND WATER DAMAGED WOOD FLOORS
Water damaged wood floor drying, like the rest of the structural drying industry, has greatly improved in the last few years. Specialty drying systems make it possible to successfully restore wood floors to pre-loss condition in about one week. Furthermore, 2/3rds of salvageable floors will not even require refinishing after being dried down properly.
Keep in mind that water damaged wood floor drying is a challenge for even the most experienced drying professionals. Simply installing a wood floor drying device WILL NOT produce results. It is only part of a larger drying SYSTEM. So ask your service providers a lot of questions and have them explain to you how their drying processes work. You'll both benefit from it.
Drying water damaged wood floors is labor intensive but compared to the cost of replacement, it makes sense. Now take into account intangibles such as air quality, project duration, policy holder satisfaction and the psychological consequences of letting the customer over-think their flooring while waiting two months to find out if it will be replaced. Drying wood floors is a "no-brainer".
ADDITIONAL WATER DAMAGED WOOD FLOOR INFORMATION
Wood moisture content (WMC) is often used as an indicator of decay problems in houses. The moisture content of wooden substructure members may be disclosed in the closing process of real estate transactions. These WMC readings may be provided by pest control operators, home inspectors and restoration firms. Wide-spread and often extensive moisture damage occurs in residences across the state of Nebraska and elsewhere in the Midwest due to our warm, humid summer climate.
Wood Moisture Content is the weight of water in a piece of wood expressed as a percentage of oven dry weight of wood. Fresh cut trees can have a wood moisture content over 200%, while completely dried wood will have a wood moisture content of 0%. Wood in buildings usually has a wood moisture content of 5% to 15%.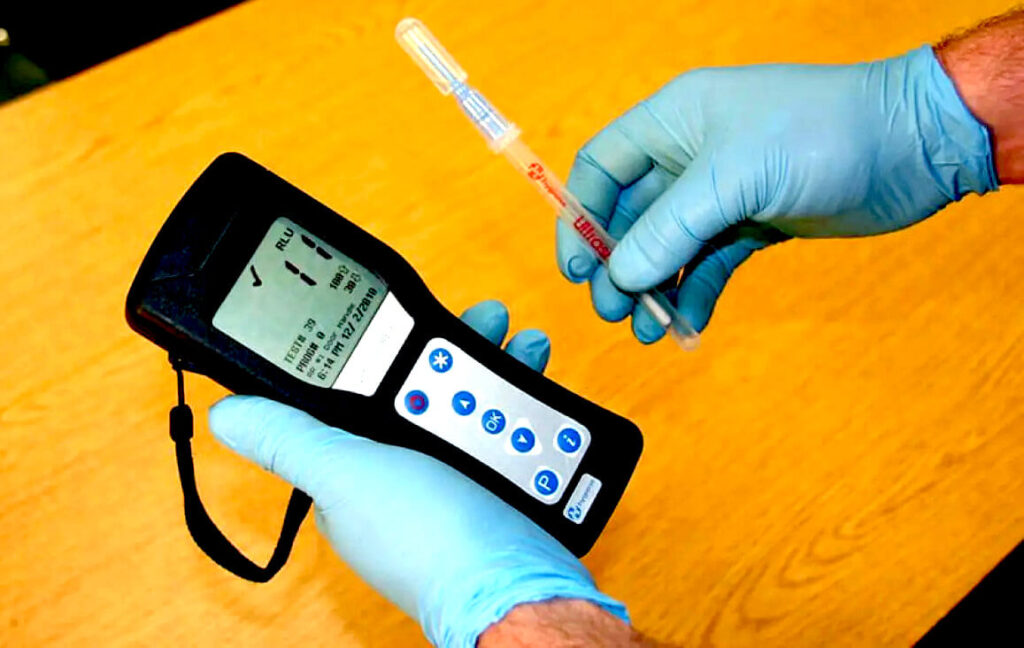 Below 12% – Readings in this range are common to kiln or oven dried woods and furniture grades of wood, and represent dry conditions. Most interior wood is in this range.
12% – 16% – Readings in this range are common to lumber during construction, air dried lumber and "healthy" residential substructures (beneath first floor in crawl spaces). These are typical readings for exterior wood.
16% – 20% – Readings in this range indicate a possible elevated level of wood moisture. Such readings should alert the homeowner to look for a source of excess moisture. The excess moisture source should be corrected if found.
20% – 28% – Readings in this range indicate that conditions are border-line for decay. Surface molds may develop. The excess moisture source should be corrected immediately, and monitored until the WMC returns to the 12-16 range.
28% and above – Readings in this range are often accompanied by decay damage. Substructures with WMC in this range may show decay or rot in floor joist, sills, and subflooring. Repair is often required when WMC readings are in this range.
Wood moisture content between 0% and about 28% is dependent upon the relative humidity (RH) of the air. As the air's RH increases, so does the moisture content of any wood exposed to the air. Wood exposed to air with a RH of about 90% will reach a Wood Moisture Content of about 20%. Above 90% RH or 20% WMC, mold can grow on the wood.
Decay fungi need liquid water to grow. Once wood is dried below about 28% WMC, water is not available to support decay, unless the wood is exposed to liquid water. This water may come from condensation, roof leaks, plumbing leaks, or contact with the soil. If decay or WMC readings over 28% are present, find and fix the sources of liquid water quickly.
WMC of framing members in a crawl space will usually be lowest in late winter and highest in late summer. If low WMC readings were obtained during the winter, and other signs of high moisture levels are present, obtain additional readings during the summer. Other signs of high moisture readings include surface mold, evidence of water flows in the crawl space or basement, evidence of water stains or evaporation from foundation walls and columns, evidence of condensation on ducts and evidence of water drops impacting the soil under ducts.
Wood subfloors are actually easy to check for moisture content. Just test for moisture at several locations in the room and average the results. In most regions, a "dry" wood subfloor that is ready to work on has a moisture content of 12 percent or less( down to 7% in low R/H states ). If excessively high readings are obtained, installation should not proceed until the origin of the moisture is identified and moisture problems are remedied. During the winter, an overly moist subfloor can be dried out by running the heat for a few weeks. Air conditioning during the summer will do the same thing. Before flooring can be installed, the moisture content of the subfloor should be within 4 percentage points of the flooring that will be laid on it.. If the moisture content between the flooring and subflooring varies more than 4 percentage points, then the flooring should not be installed.
AVOIDING WOOD FLOOR WATER DAMAGE
Occasionally, a newly installed wood floor will develop movement, cracks, cupping and even buckling of the floor. In fact, most complaints concerning hardwood flooring are related to changes in the moisture content of flooring and surrounding wood products. Regardless of the reaso, improper installation or careless maintenance by the owner,
Nebraska consumers may get the impressional that wood floors are problematic.
It is important for wood floor owners to understand the behavior of wood in relation to moisture. Most solid wood flooring in Nebraska will shrink during the winter, sometimes leaving noticeable cracks between wood planks. Conversely, wood floors expand in the summer. To help minimize these effects, wood floor owners can stabilize the environment of the building through temperature and humidity control.
WOOD FLOOR MOISTURE BASICS
If you look at a tree, it's made up of vertically-aligned fibers. Cut the tree down, and the fibers are horizontal. Saw it and manufacture strip flooring, nail the floor down and most of the fibers are still horizontal, running the length of the wood
planks.
In a live tree, the fibers are loaded with moisture, as sap. After being cut, the tree begins to dry out. As the tree's fibers dry, they shrink in thickness or diameter, but only lengthwise. This shrinkage is critical in understanding the effect of moisture on wood flooring.
Moisture content in solid wood is defined as the weight of water in wood expressed as a percentage of the weight of oven-dry wood. Weight, shrinkage, strength and other properties depend on the moisture content of wood. In trees, moisture content may be as much as 200 percent of the weight of wood substance. After harvesting and miring, the
wood will be dried to the proper moisture content for its end use.
Wood fibers are dimensionalLy stable when the moisture content is above the fiber saturation point (usually about 30 percent moisture content). Below that, wood changes dimension when it gains or loses moisture. Here are some quick points about shrinking and swelling:
Shrinkage usually begins at 25 to 30 percent moisture content, the fiber saturation point. Shrinkage continues to zero percent moisture content, an oven-dry state.
Swelling occurs as wood gains moisture, when it moves from zero to 25 to 30 percent moisture content, the fiber saturation point. Different woods exhibit different moisture stability factors, but they always shrink and swell the most in the direction of the annual growth rings (tangentially), about half as much across the rings (radially) and only in minuscule amounts along the grain longitudinally). This means that plain-sawn flooring will tend to shrink and swell more in width than quarter-sawn flooring, and that most flooring will not shrink or swell measurably in length.
Generally, flooring is expected to shrink in dry environments and expand in wetter environments.
Between the fiber saturation point and the oven-dry state, wood will only change by about .1 percent of its dimension along the grain (lengthwise in a flat-sawn board). It will change by 2 to 8 percent across the grain and across the annular rings (top to bottom), if quarter sawn; and 5 to 15 percent across the grain and parallel to the annular rings (side to side), if plain-sawn.
Wider boards tend to move more than narrower boards. Movement in a 5-inch-wide plank is more dramatic than in a 2 1/4-inch strip.
The ideal moisture content for flooring installation can vary from an extreme of 4 to 18 percent, depending on the wood species, the geographic location of the end product and time of year. Most oak flooring, for example, is milled at 6 to 9 percent. Before installation, solid wood flooring should be acclimated to the area in which it is to be used, then tested with a moisture meter to ensure the proper moisture content.
Wood is hygroscopic–meaning, when exposed to air, wood will lose or gain moisture until it is in equilibrium with the humidity and temperature of the air.
Moisture content (MC) from 5 to 25 percent may be determined using various moisture meters developed for this purpose. The equation for determining moisture content is MC% = weight of wood with water – oven-dry weight / divided by oven-dry weight X 100.
Equilibrium moisture content (EMC) is the moisture content of wood below the fiber saturation point is a function of both relative humidity and temperature in the surrounding air. When wood is neither gaining nor losing moisture, it is said to be at equilibrium moisture content. Generally speaking, a relative humidity (RH) of 25 percent equates to an EMC of 5 percent, and a RH of 75% results in an EMC of 145.
A 50% change in RH results in an EMC change of 10 percent. Different species of wood will react differently to changes in MC. However, even a conservative change of only 1/16 inch for a 2 1/4-inch wood plank can have dramatic affects. That's a full inch of change over 16 planks in a wood floor. Over the width of a 10-foot wide floor, that amounts to more than three inches of total expansion or contraction.
Freshly sawn lumber begins to lose moisture immediately. Its color will darken and small splits or checks may occur. Movement of moisture continues at a rate determined by many factors, including temperature, humidity and air flow, until a point of equilibrium is reached with the surrounding air. The shrinking and swelling of wood are dimensional changes caused by loss or gain of water.
IN PRACTICAL TERMS, THE PROCESS WORKS THIS WAY:
A standing oak tree is felled and sawed into a board 1-inch thick, 10 inches wide and 8-feet long. Placed on a scale, the board weighs, say, 36 pounds.
The board is placed in a stack of boards separated from the next by stacking strips of uniform size to keep the board straight. The stack is aimed at the prevailing breezes to accelerate drying. After two or three months of air drying, the board now weighs 25 pounds. It is also 31/32-inch thick, 9 3/4 inches wide and 8 feet long, with 25 percent moisture content.
This 25-pound board is trucked to the flooring mill and loaded into a dry kiln, a building large enough to hold three or four railcar-loads of lumber. After six or seven days, this same board is now 5~inch thick, 9.2 inches wide, 8 feet long. It weighs 21.6 pounds with an 8 percent moisture content. If aH the moisture were removed, the board would weigh 20 pounds.
Most hardwood lumber is dried to an average of 6 to 9 percent moisture content before milling is begun. Mill inspections conducted by the National Oak Flooring Manufacturers Association, allow 5 percent of the wood outside this range, to a maximum moisture content of 12 percent. The 6 to 9 percent range is likely to be the average of all types of wood products used in a normal household environment, assuming usual heating and cooling equipment is used to ensure human comfort.
WOOD FLOORING HAS A COMFORT LEVEL
Wood flooring will perform best when the interior environment is controlled to stay within a relative humidity range of 30% to 50% and a temperature range OF 60 to 80 degrees Fahrenheit. Wood flooring is typically dried to the national average MC expected in use so that shrinkage and swelling are minimized. However, the careful drying and manufacturing of wood flooring cannot entirely prevent an unsuccessful installation.
Manufacturers who have controlled storage may control the moisture content of the wood up until the point it is placed on the truck for delivery. Various parts of the country have EMCs that range from the dry, desert areas of the Southwest (under 5% EMC) to the moist areas along the Gulf of Mexico (over 10% EMC). Additionally, a wide range of RH can be experienced between individual job sites within the same area.
Dimensional stability of wood flooring refers to how a floor "moves" once it is installed. The dimensional change coefficient can be used to calculate shrinkage or swelling. Multiply the change in moisture content by the change coefficient, then multiply by the width of the wood plank.
Example: A red oak (change coefficient = .00369) board 5 inches wide experiences a moisture content change from 6 to 9 percent–a change of 3 percentage points.
Calculation: 3 x .00369 = .01107 x 5 = .055 inches.
In actual practice, however, change would be diminished in a complete floor, as the boards' proximity to each other tends to restrain movement.
How much can temperature and humidity affect the dimensions of a hardwood floor?Consider a look at one 5" red oak plank:
Within "normal living conditions" (say, an interior temperature of 70 degrees and 40% RH), the board has a moisture content of 7.7% and is 5 inches wide.
If the RH falls to 20%, the moisture content of the board will be 4.5 percent, and the same 5 inch board will shrink by .059". Across 10 feet of flooring that could translate to as much as 1.4"of shrinkage.
If the RH rises to 65%, the board's MC would be 12% and the same 5-inch board would expand by .O79". Across 10 feet of flooring, this could translate to 1.9" of expansion. CONTACT US TODAY
For help with restoration and repair of your hardwood floors
LATEST NEWS, RESTORATION TIPS AND ADVICE
HOW DOES MOLD GROW IN YOUR HOME? Mold spores are everywhere in our outdoor environment, so naturally they end up inside our home, contained in our dust. However, you never want to have mold growing in your household. When mold grows indoors, it's an indication of a...
read more